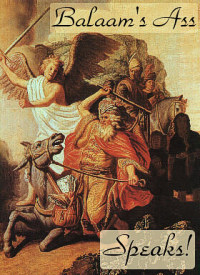 BALAAM'S ASS SPEAKS
A JOURNAL

Sweet to the Saints, Bitter to Heretics--
Ain't Nothin' in between !!
ENTRY PAGE TO THE JOURNAL
Best viewed in 800 by 600 screen size
CLICK HERE
TO GO ON TO THE ENTRY PAGE OF THE JOURNAL
OR, THE PAGE WILL AUTO LOAD FOR YOU :-)
Best viewed at 800x600 screen size
© Copyrighted by Steve Van Nattan-- 1996-2000 All Rights Reserved.
ALL exclusive, and graphical material may not be used with out permission.