RECIPE CORNER- Recipe Corner- Africa, India, Sri Lanka, Pakistan, Afganistan, Japan, China, Napal, Indonesia, Malaysia, Cambodia, Thailand, Burma, Vietnam, Korea, Kimchi, Kimchii, Curry, Rice, Chutney, Papadum, Sushi, Sichuan, Hunan, East AFrican. Ugali, Injera, Tef, Ethiopia, Kenya, Nigeria, Zigani, Eritrea, South AFrica, North Africa, Sudan, Uganda, Tanzania, Zaire, Malawi, Zimbabwe, Zambia, Somalia, Congo
RECIPE CORNER:
Africa

EAST AFRICA
Makubi
Cook 2 packages of frozen spinach ( or one pound fresh) and 1 16 oz. can of tomatoes, chopped. (Tomatoes optional, but if you don't use them cook the spinach according to package directions.) salt to taste.
Add 1/2 C. peanut butter
Mix well. Heat again if necessary. Serve.


The Africa News Cookbook
This is an exceptional cookbook of authentic recipes from all over Africa. Order it from your local bookstores, or on the Web at: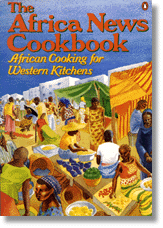 ---
The Home
Maker's

Corner
Book Store

LINKS:




background & most graphics by mary van nattan
spchk mt/se