STORE HOURS
9 TO 6 CDT
GMT minus 5 hours
Monday thru Friday
Do not call on
Sat. Sun. please

OLD AND STRANGE ACTIONS
I suggest you print out these diagrams
so that you can study them easier.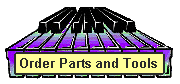 Graff and Stein Actions from Vienna
This is the more recent, late 1800s, version of the Vienna action.
It has a better repetition aspect than the old version below, and
the back check arrangement is a great improvement over the
old version which must have let the hammer bounce. This shows
how piano actions were evolving during the 1800s. Our customer in
Vienna tells us the piano plays very well, considering the simplicity
of the repetition aspect. Most parts replacements and felt parts must
be improvised.
You can go from here directly to an area discussing your part in quesion.
OR
Go the the catalog page offering the part you find by its name in the diagram,
By using the search indes below.
Below is an Exhaustive Index of our Whole Site: