KLEENEX BLASPHEMES THE WORD OF GOD
The graphic below speaks for itself. I am asking you readers to boycott Kleenex for a minimum of a year. There are other brands available. We saints must NOT reward these greedy merchants who make merchandise of the King James Bible.
____________________________________________________________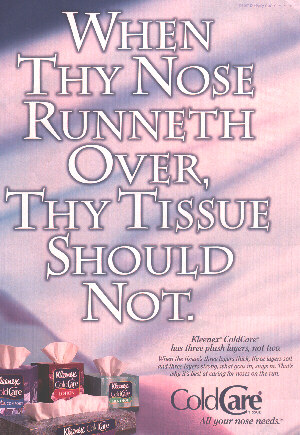 Please do not give your trade to these blasphemers.
Also, please call them if you can find an 800 number for them.
Or, send E-Mail to them at their parent company, Kimberly Clark, Web Page at: http://www.kimberly-clark.com/ask/response.cgi
Put the scourge of thongs to them.
_______________


BACK TO THE TITLE PAGE