R.J. Reynolds is smoking too
Praise God for this tobacco smoke.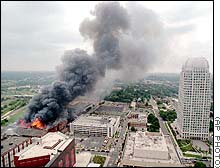 WINSTON-SALEM, North Carolina-- A fire tore through R.J. Reynolds Tobacco Co.'s former downtown complex Thursday, collapsing two buildings, gutting a third and forcing the evacuation of a jail across the street.
The blaze gutted the building that company founder R.J. Reynolds built around 1890 as a factory to make plug chewing tobacco. The country's second-largest tobacco maker added cigarette factories before moving to the suburbs in the early 1980s.
---
Balaam's Ass Speaks wants to go on record praising God for destroying this landmark of murder and destruction. We pray that many more tobacco enterprises will also be destroyed soon.




BACK TO THE TITLE PAGE