STORE HOURS
9 TO 6 CDT
GMT minus 5 hours
Monday thru Friday
(800) 338-8863
1 (906) 864-1437

ORDERING INFORMATION:
MINIMUM ORDER:
Minimum Order is Variable
SHIPPING POLICY:
Minimum $12.00
Higher shipping cost
for heavy items
You MUST browse the Catalog area, and try to learn what you want. We no longer search our catalog for you.
Have this information ready:
1. Description of parts
2. Part Numbers
3. Prices
4. Dimensions where needed
BEFORE you call us please.
Make sure you are in the catalog area for your kind of piano--
Such as Grand Pianos,
Full Uprights, Spinets, etc.
If you are confused, do not phone us until you have SENT E-MAIL and asked for help.
If we do not answer the phone, we are probably here-- Just leave a message- we will return your call (it may not be the same day).
:-)
PIANO TUNING PINS
ACCESSORIES
PIN BLOCKS
BRIDGES
We now offer pin block and bridge duplication !
Learn how to repair and tighten loose tuning pins: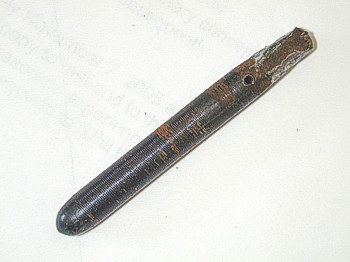 When you do not buy the right tools to move tuning pins, whether only one or to do a whole tuning, you will almost always destroy tuning pins. This is because the lever used to turn tuning pins has a unique design to match the also unique design of the top of the tuning pin. This is not hype to sell piano tools. I do not do that. It is a fact, and if you cheat, you will buy the lever and an attachment to remove the damaged pin in the end. At the right you can see what happened to a tuning pin turned by an improvised tool. The most common trick is to use the reverse end of a quarter inch drive socket. This trick makes me lots of good cash.
Find a tuning lever on this page.

TUNING PIN SIZES AND ORDERING INSTRUCTIONS
There are two sizes I need:
1. The length of the tuning pin. This is on the chart below. If you have an odd length, get the size
slightly shorter than yours.

2. Measure the diameter of your pin with a micrometer, then see which pin is yours on the chart.
If you are trying to tighten loose pins, you will want the next largest pin size to get the advantage wanted.
If you are not sure of yourself with a micrometer, have a technical or mechanical friend do this for you.
The increases from size to size are very slight.

When ordering, use Pin Numbers from the chart below.
Wegman Pianos--

These pianos have short tuning pins which anchor in slotted holes in the harp or plate. You will have to take new pins to a machine shop and have them cut to match your original pins. If doing only a few, cut them with a Dremel tool. A Wegman is well worth restoring since the pins never get loose due to aging of wood.
NIPPON DENRO PINS
Manufactured in Japan
All Denro pins have machined threads.
PRICE-- Piano Tuning Pins:

SIZE DIAMETER BLUED NICKEL PLATED

1/0 x 2"
1/0 x 2 3/8" .276" $160.00 $170.00
1/0 x 2 1/2"
_________________________________________________________________
2/0 x 2 1/4"
2/0 x 2 3/8" .282" $160.00 $170.00
2/0 x 2 1/2"
_________________________________________________________

3/0 x 2 1/4"
3/0 x 2 3/8" .286" $160.00 $170.00
3/0 x 2 1/2
_________________________________________________________________

4/0 x 2 1/4"
4/0 x 2 3/8" .291" $165.00 $175.00
4/0 x 2 1/2
________________________________________________________

5/0 x 2 1/4"
5/0 x 2 3/8" .296" $165.00 $175.00
5/0 x 2 1/2
_______________________________________________________

6/0 x 2 1/4"
6/0 x 2 3/8" .301" $165.00 $175.00
6/0 x 2 1/2
_______________________________________________________

7/0 x 2 1/4"
7/0 x 2 3/8" .307" $165.00 $175.00
7/0 x 2 1/2

All Tuning Pins also available by the dozen @ $15 per dozen.
ACCESSORIES:
Tuning Pin Wooden Bushings-
Hardwood- All bushings 7/16" outer diameter, 1/4" hole
Order 250 for a complete restringing.


| | | |
| --- | --- | --- |
| Part Number | Height | Price / 250 |
| SH346A | 1/4" | $ 31.00 |
| SH346B | 5/16" | $ 31.00 |
| SH346C | 3/8" | $ 31.00 |
Modern pianos since 1965 usually use the smaller wooden bushings below.
If your Steinway has no bushings, that is because they did not use them.
Hardwood- All bushings 13/32" outer diameter, 7/32" hole.
Order 250 for a complete restringing.


| | | |
| --- | --- | --- |
| Part Number | Height | Price / 250 |
| SH345A | 1/4" | $ 31.00 |
| SH345B | 5/16" | $ 31.00 |
| SH345C | 7/16" | $ 31.00 |
Tuning pin metal round shim sleeve-
One dozen sleeves
Insert the sleeve into the tuning pin hole and replace
the pin to tighten the tuning pin. SH346E $ 6.75
Same as above- 100 sleeves-
Be sure to give quantity on Order Form- SH346E $ 46.75
[ Read about this Repair in Chapter 7, #60 ]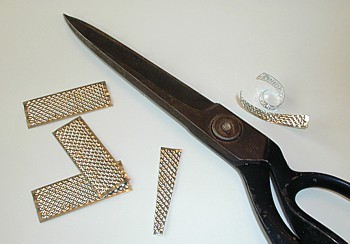 Tuning Pin Hole Flat Metal Shim-- Custom fit
This shim has the advantage of being fit to the need at hand. You will
cut the flat serrated metal sheep to make a tapered insert, as in the photo.
This will be inserted in the worn tuning pin hole narrow end down.
Bend it into a curve so it fits in the hole against the side of the hole flat.
You can press it into the wood to bind with a round bar. Then insert the
tuning pin carefully, and turn the pin in a few turns. Remove the pin, and
make sure the metal strip is flattening and embedding in the hole and not
being pushed down into the hole. If it is set and embedded some, insert
the tuning pin and turn it is, DO NOT DRIVE THE PIN WITHOUT
TURNING IT IN. This method is midway between the sand paper
wedge shim and the round metal sleeve above which is often overkill.
The shim also does not have the shoulder hanging outside the hole and
visible to the customer.

Set of 8 metal strips-- Each strip will do two shims HF7979-0VGA $ 4.00

Geers Falconwood laminated wooden plugs

Technique For Installing Geers Wooden Plugs:
Andy Taylor wrote:
"What I thought about doing is to drill all the pin holes out, to a larger size, and all the same size. Then, using a plug cutter, cut and curl out some plugs out of thick pinblock material."
"This is not a new idea -- it is done all over the country by many quality tuners. Cliff Geers, in Cleves OH, who sells soundboards, panels and ribs, also sells Delignit pinblock plugs. They are the perfect size for gluing into place and redrilling."
"There is no need to use synthetic material as with epoxy. Just use plain hot glue or cabinet glue. The plugs drive into the holes rather firmly and cannot move once the plate is in place."
"Quite often these plugs are used to replace the wood around only those pins that are reamed the worst. Less often they simply redo all of them and redrill and replug the whole piano. I seldom use the old pin blocks in grands but usually keep them in uprights. I use this tech- nique occasionally, but it is not a temporary fix-- it is for good, so don't worry about it. I use it more often in square grands that do not need a whole new pin block."
"In order for this to work, the holes drilled in the old pinblock should be as large as possible to prevent the "plugs" from being too thin after the new pin holes are drilled. Conversely, the holes should not be too large, or the old pinblock might crack between rows under tension. Boesendorfer tapered pins might be use here with good results."
Steve Van Nattan's Disclaimer: If you use these plugs, you must understand that YOU are the only one responsible for the results. This is somewhat of an act of desperation, though a good one.



Geers plugs
These plugs are 1-1/4 inches long by 1/2 inch in diameter.
They are cut from what we believe is the best quality pin block material
with 26 laminations
A half inch hole is drilled out where the loose tuning pin is located.
The plug is inserted with a wood glue bond, and the plug drilled for a
new tuning pin.
The tuning pin is then inserted.
Per Dozen $ 30.00

Tuning Pin Extractor -- FOR BROKEN TUNING PINS
This 3/4 inch long tool (not shown in Illustration) will remove
a tuning pin which has been damaged by amateur efforts to turn a tuning pin
with improvised tools. It will also remove a pin which has broken off at the
hole. The tool fits into the tip of a tuning lever. It has tapered reversed threads
so that, when turned counterclockwise, it bites the top of the broken pin and
removes it. This is similar to an "easy out" used in automotive applications on
broken engine bolts. It will seldom be needed, but when such an emergency
transpires, this is the ONLY thing to save the day. It should be in EVERY
professional tool kit. If the tuner before you did not have one, this tool will
make you look like his superior for sure. You will want to price the task to
pay for the tool the first time since you will seldom use it. SH110 $ 32.50


Instruction for pin tightening treatments:
Lay the piano down on its back if it is an upright. Leave grands as is. Apply the solution with a bottle with a nozzle attached, or an oil can. I use a hypodermic syringe to control the liquid and avoid puddling it all over the harp. The solution you get on the harp does nothing but make a mess. Squirt it down the opening at the rear of the pin hole which has developed due to age and wear. Read more about my secret method of application in Repair in Chapter 7, #60.
LUBRICANTS AND LIQUID PIN TREATMENTS- CLICK HERE
The secret to pin treatment is the right "dope" which is not a reflection on you :-)


TOOLS FOR TUNING PIN AND PIN BLOCK WORK
PIN BLOCKS-
Replacing a pin block is very involved. I do not give instructions for this task at this
time, but you can find detailed instruction for pin block replacement in Arthur Reblitz'
book CLICK HERE to go to our Books order page and Mr. Reblitz' exceptional book.
If you are not well above average in mechanical skills, you should pay a professional to do this.
The best place to shop for help is your local Baldwin store-- Ask for their technician.
In any case, I strongly encourage you to only buy and install the pin block, but call for help to drill it.
If the technician you call get grumpy that you installed the pin block yourself, simply keep shopping
until you find a gentleman who likes to help do-it-youselfers.

Delignit ®-- Multi-Laminated Pin Block Material Imported from Germany
Twenty one veneers of European beech are bonded under pressure with phenolic resins. This makes for
a very stable plank which is very impervious to temperature and humidity changes. This means
the piano will not go out of tune as easily during weather changes, and the long life of the
piano in regard to pin tightness. Of course, you pay for this added quality.
Single and double planks can be shipped by UPS-- Full planks go by motor freight.
There is some debate among piano tuners as to German versus US craftsmanship.
Delignit is without a doubt the leader worldwide.
Thickness

Single Planks
59" by 9 1/4"

Double Planks
59" by 18 1/2"

1 3/8"

SH493- $ 355

SH494- $ 640

1 1/2"

SH496- $ 300

SH497- $ 700
Maple Pin Block Plank
These are made in USA of laminated northern hard rock maple and hand crafted. This product has been
highly praised in the trade, and some technicians claim it is just as reliable as Delignit. It sure is less
expensive. These blocks are fully dressed on both sides. By using these stock planks, you can fit them
yourself and save the bother of sending the old pin block to be duplicated. This also prevents you having
nothing for a pattern if the US mail happens to lose your old plank when you send it in.
Thickness

Single Planks
59" by 9 1/2"


Double Planks
59" by 22"


1 1/4"

SH563- $ 245

SH563D- $ 435

1 3/8"

SH562- $ 255

SH562D- $ 460

1 1/2"

SH564- $ 275

SH564D- $ 495
PIN BLOCK DUPLICATION
We can provide pin block duplication. The pin block must be sent in to us. Our supplier will then send you
a completed pin block WITHOUT the tuning pin holes drilled. You will drill the holes once the pin block
is attached to the plate or harp.

PRICE: $ 215 to $ 275 The price is determined by the pin block size and variety you choose.
Shipping will be added and will include shipping to our supplier, and shipping from our supplier to you.
This is needed for us to be sure the thing is done right.
SEND MAIL for a quote.
PIN BLOCK DRILLS AND REAMERS
Maple Block drills
These drills have the brad or tit to center the drill and prevent side drift. 4-1/2 inches long
Except for 136F, they are .009 inches under the corresponding drill size in the chart.

Part Number



SH136A
SH136B
SH136C
SH136D
SH136E
SH136F

For Pin Size

2/0
3/0
4/0
5/0
1/0
1/0 & 2/0

Diameter of Drill

.271 in.
.276 in.
.281 in.
.286 in.
.266 in.
.250 in.

Price

All Drills

$ 24.25each

Dilignit Block drills
Slow spiral, pointed drills measuring 4-1/2 inches long are mainly used with 2/0 pins in
Dilignit pin blocks.

Part Number SH94A Drill - .257 inch diameter $ 21.50
Part Number SH94B Drill - .261 inch diameter $ 21.50
Part Number SH94C Drill - .266 inch diameter $ 21.50

Reamers for Installing Oversized Tuning Pins
When installing oversized tuning pins in older pin blocks to gain tightening, it is advised
that this reamer be used to make all holes uniform and aboid over tightening in some holes.
All reamers are .009 inches under the corresponding drill size in the list.

Part Number

SH137A
SH137B
SH137C
SH137D
SH137E

For Pin Size

1/0
2/0
3/0
4/0
5/0

Diameter of Drill

.266 in.
.271 in.
.276 in.
.281 in.
.286 in.

Price

All Reamers

$ 32.50 each

LINKS:

Geers site on drilling pin blocks
BRIDGES
We can have bridges made to order.

Bass bridges, curved of straight, and the long curved treble bridges.
Also, we can order aprons (the Z mounting piece) for bass bridges.
SEND E-MAIL for instructions

PRICES:

Bass-- $150.00 to 210.00
Treble-- Inquire
Bridge cap material--
If the bridge pins are loose and wood ruptured:
This product may also be used on Hackleys and other pianos with a
wood bridge at the top end of the bass strings. It must be sculptured.
Laminated beech material by makers of Dilignit--
24" x 48" x 15/32"-- SH500 $ 240.00
---


ORDER BY PHONE WITH CREDIT CARD
CALL TOLL FREE: (800) 338-8863
If there is no answer, please leave a message- we do answer our voicemail

OR:
Go to Mail Order Form for printing:
SEARCH THE WHOLE SITE
Online help available




NP