STORE HOURS
9 TO 6 CDT
GMT minus 5 hours
Monday thru Friday
Do not call on
Sat. Sun. please

ORDERING INFORMATION:
MINIMUM ORDER:
Minimum Order $20
SHIPPING POLICY:
Priority Mail shipping for most items. UPS by request.
You MUST browse the Catalog area, and try to learn what you want. We no longer search our catalog for you.
Have this information ready:
1. Description of parts
2. Part Numbers
3. Prices
4. Dimensions where needed
BEFORE you call us please.
Make sure you are in the catalog area for your kind of piano--
Such as Grand Pianos,
Full Uprights, Spinets, etc.
If you are confused, call us for assistance.
If we do not answer the phone, we are probably here-- Just leave a message- we will return your call (it may not be the same day).
:-)
PIANO REPAIR AND
ACTION ADJUSTMENT TOOLS
(REGULATION)
Who do we help here?
We even help people who think a polonaise
is something that goes in a submarine sandwich.

EXHAUSTIVE WORD INDEX OF THE WHOLE SITE:
Other tools not found on this page can be seen
by hitting links at the bottom of this page.

REGULATING AND REPAIR TOOLS
Adjusting the action is absolutely essential, and often it is not that hard to understand.
Also, the repair tools here will make for more precise and trouble free adjustment , repair, and assembly.
Some of the regulating tools below are not being copied in China. I have had samples sent to me from
the manufacturer in China, and the are tricky. Some are bent into position instead of machined or stamped.
Tools made by cutting and bending break easier.
Part Description: Part Number Price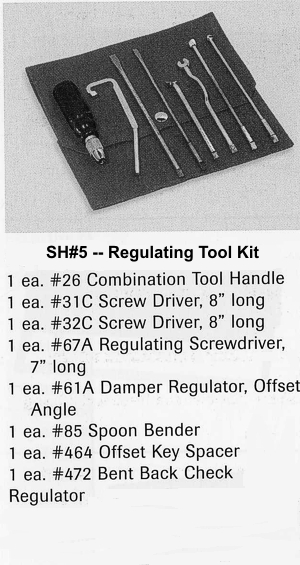 This Tool Kit is a great addition to the Touch Up Took Kit we sell
The tools included are the basic tools used in light regulation done
during the tuning of a piano. For bench regulation and for major
restoration situations, the Master Regulating Tool Kit below is desirable.
This kit is ideal for the person maintaining several newer pianos which
do not have the issues of old age, only the small adjustments needed due
to the compression of felt and the alignment problems of new pianos.
The handle for this kit is the one shown in the graphic on the right of the
page below. The case can easily be rolled up and added to our Touch
Up Tool Kit pouch.
This kit includes two flat bit screw drivers long enough to reach the inner
areas of the action to remove flange screws and make adjustments. It might
seem as though flat bit screws drivers would be better purchased at a local
tool supply, but these screw driver tools will fit in the universal handle.
If each tool were to have its own handle, the technician would have a huge
bundle of tools which would be cumbersome.
PRICE Part Number- SH#5 $ 182.75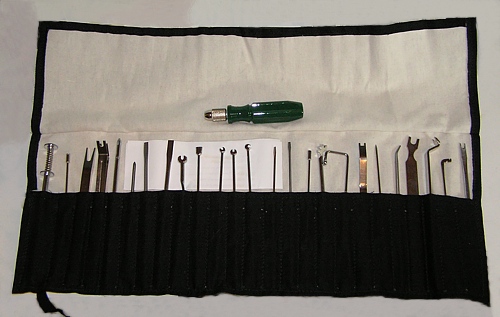 We are the only ones who sell this kit
with the handle included.
From my experience of 23 years in the trade, I believe
this kit contains the most used regulating tools needed
for both upright and grand piano regulation.



The following tools are in this kit:
All of the individual tools fit into one handle which has a lock grip.
This reduces the size of your tool kit by eliminating all the handles on separate tools.
The handle we supply is Number SH26 which has a bezel ring tightener: SH- #8 and SH26 $ 425.75
Order BOTH part numbers above


8" Screw Holder
Jack Spring Hole Reamer
Grand Hammer Butt Spacer
Punching Lifter
Philips Screwdriver
Philips Screwdriver
Screwdriver Blade
Screwdriver Blade
Offset Key Spacer
Regulating Screwdriver
Damper Regulator
Right Angle Damper Regulator

Grand Screwdriver
Kimball Screwdriver
Grand Drop Screw Regulator
Bent Backcheck Regulator
Spoon Bender
Pointed Awl
Steinway Capstan Regulator
Screwdriver Blade for Flange Screws
Grand Spring Adjuster
Grand Screwdriver
Carrying Case for the tools
SH26 Handle for many of the tools- See above right
SOME OF THE TOOLS IN THE KIT ARE NOT AVAILABLE
ANYWHERE ELSE IN OUR CATALOG.
This is a special set we have acquired from our supplier.
We cannot make any substitutions.
Some of the tools in the kit above are found below on this page.

---
Part Description: Part Number Price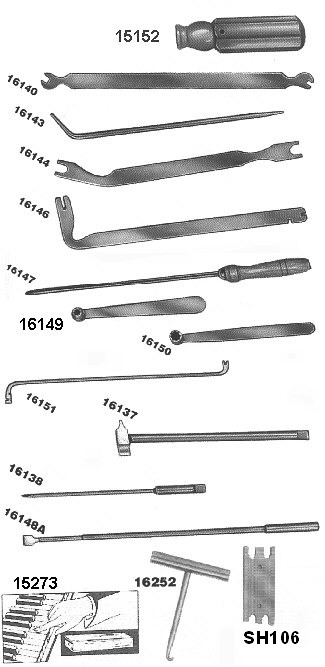 Universal Friction Fit Handle-- All tools
which are noted as needing
the "universal handle" fit
this handle. 15152 in graphic SH150 $ 17.50

Universal Handle-- High Quality
Tool Steel with high impact plastic handle.
Tools are held tight and released by turning
a compression knurled bezel. Fits all
regulating tools which come without a handle.
See handle graphic at right SH26 $ 38.00
Capstan tool for removing lost motion-
Nut type- 8 in. long- Two sizes on
one tool- 16140 in illustration SH84B $ 21.50
Capstan tool- Pointed- For removing
lost motion- Hole type- 16143 in
illustration SH83 $ 21.25
Steinway Capstan Regulating Tool
Old Part Number 16144 SH97 $25.40
Grand Damper Wire Easer-- Great little tool for loosening felt bushing around damper
wire. This is needed on many new and rebushed pianos
Old Part Number 16147 SH195 $ 21.90
Bearing Check Gauge--
Used at the lower bridge to determine if there is bearing SH106 $ 19.50
Grand Let-off Jack Button Regulator--(replaces old 16149 above)
Measuring 5 1/2" long, this accurately machined wrench enables precise adjustment
of jack escapement in any grand piano made in the USA without removing the
action. One end designed for precise eye type regulating; the other for dowel type. SH3149 $ 39.50

Mason Hamlin Wrench--
A Must for "screw stringer" or "top stringer" M/H
Also use on grand jack screw regulating Old Part Number 16150 SH19 $ 25.85
Hart Spring Tool -
The best one for adjusting actions springs from any angle without worry about kinking.
Stainless steel. SH895 $ 49.95
Grand Spring Adjuster--
Adjust tension on grand springs including on Steinways
Also, position hammer butt and damper springs on uprights
Old Part Number 16151 SH91C $ 22.75
Double head Offset Screwdriver-- Get into tight spots- Universal handle needed-
This tool can also be used in automobile and other applications
Old Part Number 16137 SH73 $ 20.75
Pointed Awl-- Three sided tip for making guide holes for screws
Also, great for dressing holes in tennis rackets and other plastic objects
Universal handle 15152 or SH26 needed- Part 16138 in graphic SH3111 $ 16.75
Awl with Wooden Handle-- 4 inch steel blade SHMF-365 $ 12.00
Screwdriver for action flange screws--
Thin shank allows getting around jack to reach a buried screw--
Universal handle 15152 or SH26 needed- Old Part Number 16148A
8 inches long SH34 $ 23.35
4-1/2 inches long SH35 $ 30.40
Hammer which fits into Universal Handle- Just right for tapping in loose tuning pins.
You MUST have a universal handle which locks the tool with a twist bezel.
Not shown in graphics- 3-1/2 inches long- 7/8 inch diameter head- SH36 $ 40.80
Our Key Leveling Kit--Consists of a custom made straightedge and a
Jaras 3-in-1 Leveling and Key Dip Device, with complete instructions. SS-Level $52.95
Key Leveling Tool-
This is a professional tool for leveling the keys.
. SH255 $ 65.00
Sharp Adapter for Key Leveling Tool
This tool is needt to accurately level the sharps and
is used with SH255 above SH265 $ 12.95

Jaras 3-in-1 Leveling and Key-Dip Device
Replaces multiple dip blocks because it is adjustable. Can be used
to set dip on sharps. After white keys are leveled, can be used to seet height of sharps. SH40 $42.95
.

Key drop "dip" gauge-
New model comes with keytop on the wood
block for realism- Set this on a key, push it
down, and determine if the key next to it has
correct key-drop.


3/8 inch keydrop SH199 $ 4.00
13/32 inch keydrop SH199A $ 4.00
7/16 inch keydrop SH199B $ 4.00
1/2 inch keydrop SH199C $ 4.00
HDPP Key Felt Bushing Wedges (not pictured)
This is the favorite in production shops- Durable and accurate
Keep away from small children-- four sizes
.147" One Dozen minimum SP147 $ 25.00
.162" One Dozen minimum SP162 $ 25.00
.138" One Dozen minimum SP138 $ 25.00
.125" One Dozen minimum SP125 $ 25.00
Set of 90 $ 99.00
Key Lever Front Rail and Balance Rail Pins
One Assortment of paper shims (punchings) for leveling keys- CLICK HERE TO FIND THEM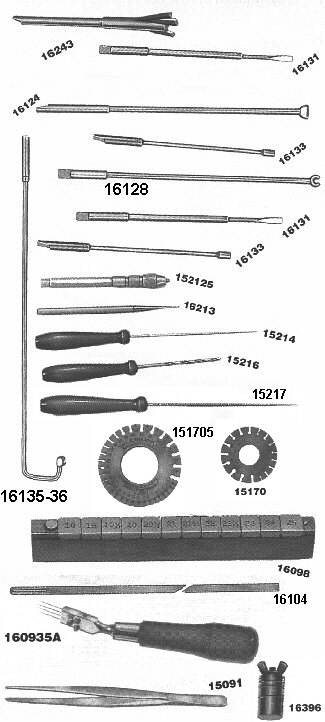 Drop Action Button Regulator--
Grips the button to avoid breaking--
Universal Handle needed- 15152--
Old Part Number 16243 SH3333 $ 22.50
Grand Screwdriver-- Very small slot
Good for Kimball damper screws
Brass upright butt plate screws
Universal Handle needed--
Old Part Number 16131 SH4106 $ 17.00
Jack ring top button screw adjusting tool
[ Regulating Screwdriver ] 16124 in graphic
(ring head type) Universal handle needed
16124 in illustration
5 inches long SH67 $ 20.50
7 inches long SH67A $ 21.00
12 inches long SH67B $ 21.00
Use 12 or 15 inches for drop actions
Regulating Screwdriver (not pictured)
This tool is an improvement on the SH67 tool in that
the 3/8" diameter ball end has crossing, oval openings
that allow regulating eye screws to be turned at any
90 degree angle. Overall length is 8"; fits universal handle. SH269 $40.85
Grand Drop Screw Regulator--
All screws with flattened tab ends
Found mostly on grands and a few uprights
Universal handle needed
Old Part Number 16133
5 inches long SH4102 $ 20.00
9 inches long SH4103 $ 20.00

See model with wooden handle down the page
Damper Regulator-- 7 inches long
Need higher quality Universal handle
Work through the action-- Old Part Number 16128
Straight (Adjust right to left) SH61B $ 20.00
Right Angle (forward and back) SH61C $ 19.00
Right Offset (forward and back) SH61A $ 19.00

Spoon Benders-- Bend Spoons with
action in piano-- 6 inches long-- Old Part Number 16135 SH85 $ 22.15
12 inches long-- (Universal handle needed) Old Part Number 16136 SH87 $ 22.25
Tuning Pin Extractor -- FOR BROKEN TUNING PINS
This 3/4 inch long tool (not shown in Illustration) will remove a tuning pin which has been
damaged by amateur efforts to turn a tuning pin with improvised tools. It will also remove
a pin which has broken off at the hole. The tool fits into the tip of a tuning lever. It has
tapered reversed threads so that, when turned counterclockwise, it bites the top of the
broken pin and removes it. This is similar to an "easy out" used in automotive applications
on broken engine bolts. It will seldom be needed, but when such an emergency transpires,
this is the ONLY thing to save the day. It should be in EVERY professional tool kit. If the
tuner before you did not have one, this tool will make you look like his superior for sure.
You will want to price the task to pay for the tool the first time since you will seldom use it. SH110 $ 33.00
Music Wire Gauge--
Wire No. 12 to 28-- Old Part Number 15170 SH342 $ 114.50

Grand sound board cleaning steel- Be sure to read our section on using the Cleaning Steel.
Can be used to clean bridges on uprights.
Rag is tied in end hole, and the steel is pushed under strings
to clean sound board-- Old Part Number 16104 SH934 $ 5.95
Hammer Voicing (Picking) Tool-- GO TO HAMMER RESTORATION TOOLS PAGE
Weights for Balancing Keys and adding Leads-- Gram increments from 1 to 64 grams--
The weights are used to see how much pressure is needed to push the key down and
move the action. Can be added to increase or decrease tension-- Old Part No. 16396 SH198 $ 27.90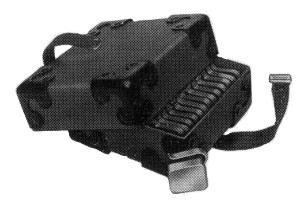 Grand Key Leveling Leads-- For the professional-- These leads replace the weight of the
action when the keyboard is removed for adjustment and leveling with punchings.
Simply press them into the back end of the keys, the nails keep them in place.
Set of 52 For doing naturals -- See grapic at right Part Number SH973 $ 110.00
Long tweezers (8 inch)- Essential to align parts for gluing, especially loose jack flanges- stainless--
6 inches long-- Old Part Number 15091A Part Number SH160A $ 4.60
8 inches long-- Old Part Number 15091B Part Number SH160C $ 6.75
12 inches long-- Old Part Number 15091C Part Number SH160D $ 12.50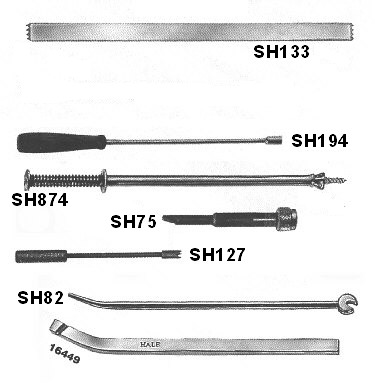 Regulating Screw Driver with handle--
Regulate any flat tab adjustments in uprights
or grands, especially grand wippens
Improved model with plastic handle
SH194 $ 16.75
Screw holder--
If you don't find one anywhere else,
get this one--
To insert screws in action! SH874 $ 48.50
Jack Spring Reamer for removing
glue when replacing jack springs--
I find this tool unmatched by
improvising if a whole set of jack
springs are being replaced- SH127 $ 24.45

Capstan Screw and Front Key Pin Regulator (Straightener)-- SH82 $ 21.90
Grand Back Check Regulator-- Upright and Grand (Straightener)-- Not shown
Replaces Hale tool no. 16449-- One end for uprights, the other for grands.
Crome plated-- Invented by piano technician Tom Fendon
This tool is ideal for adjusting back check wires in a spinet with the action in the piano. SH197 $ 38.00
Glass Mirrors with Pickup Magnet - 1-1/4 inch diameter mirror
Mirrors have a magnet at the end of the handle for picking up nuts, bolts, and
regulating tools. Made of chrome-plated brass with a telescoping handle and double
ball joints for adjusting mirror 360° .
With pocket clip. Replacement mirror available- SM1503 $ 18.25
General Purpose Heat Gun Kit
This heat gun can be used to remove old key tops in a hurry. It can be used to melt animal
hide glue in player piano and reed organ applications. With Nozzle A it can be used for
heat bending upright hammer shanks for alignment (practice before doing it on a customer's
piano please :-) It could be used to remelt animal hide glue where it has set up too fast, and
where you were not quick enough putting things together. It could be used to lay down
rubberized cloth that did not glue down right where animal hide glue was used.With care,
it could be used to dry out sluggish action parts to see if humidity is causing problems. It could
also be used in other shop and automotive applications and in paint removal. Finally, it could
be used to reheat your cup of coffee you did not drink fast enough.
Heat gun can be hand held or put in the included base plate for bench top use. Includes
3 nozzles and carrying case.
Heat gun range- 500° -750° F- 1680 watts- 14 amps Part Number SM1600 $ 187.20
Replacement heating element for K43- Part Number SM1601 $ 35.85
Use your imagination to speed up tasks with the various nozzles in this kit.
Nozzle A could be helpful with hammer shank bending.
Nozzle E can be used to remove old ivory key tops.
Nozzle F is used for reducing the area of work.
Because of the nature of the use of these heat guns we cannot warrantee them.
Parts are available to repair the heat guns though, that is, more than just the heating element.
GAUGES AND SUNDRIES



Gauge for sizing broken bass wires for order--
Slide copper windings down the slot, and use the number nearest
the point where the wire stops- Also sizes tuning pins for re-order- SH344 $9.25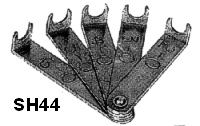 Gauge for sizing tuning pins while still in the piano--
This gauage allows you to size the tuning pin before removing the pin,
and you then can determine which size pin you need and check your
supplies or order the pin accordingly. SH44 $ 24.00
False Beat Eliminator- Thump a false beating wire just above the
bass bridge (or below upper bearing bar) and clears it up- SH101 $ 34.20

OTHER REPAIR AND RESTORATION TOOLS:


ORDER BY PHONE WITH CREDIT CARD
CALL TOLL FREE: (800) 338-8863
If there is no answer, please leave a message- we do answer our voicemail

OR:
Go to Mail Order Form for printing: