STORE HOURS
9 TO 6 CDT
GMT minus 5 hours
Monday thru Friday
Do not call on
Sat. Sun. please

PLAYER PIANO
AND REED ORGAN
GLUE AND LUBRICANTS

ORDERING INFORMATION:
MINIMUM ORDER:
Minimum Order $20
SHIPPING POLICY:
Priority Mail shipping for most items. UPS by request.
You MUST browse the Catalog area, and try to learn what you want. We no longer search our catalog for you.
Have this information ready:
1. Description of parts
2. Part Numbers
3. Prices
4. Dimensions where needed
BEFORE you call us please.
Make sure you are in the catalog area for your kind of piano--
Such as Grand Pianos,
Full Uprights, Spinets, etc.
If you are confused, call us for assistance.
If we do not answer the phone, we are probably here-- Just leave a message- we will return your call (it may not be the same day).
:-)
Player Piano Servicing and Rebuilding By Arthur Reblitz
See a the book for sale at the bottom of this page.
EXHAUSTIVE WORD INDEX OF THE WHOLE SITE:
Turn off the music here
More player MIDIs at pianola.co.nz

PUMP (REED) ORGAN SUPPLIES--
Go here if you are actually looking for pump organ parts



GLUE AND ADHESIVE FOR PLAYER PIANO
AND REED ORGAN WORK
OVERSEAS ORDERS: We will NOT ship most liquids with other piano items.
If they break open, everything could be ruined. We ship liquids only by surface mail.
Pin treatment is the exception, but it must be alone in the carton.
Price Rule for this section:
These products are listed in other areas of the catalog. The rule is that whichever
price is the highest applies. Thanks for understanding
Part Description: Part Number Price
PVC-E Glue for Nylon Pneumatic Material
Excellent for pump organ and player pneumatics bellows material to wood.
Use also to glue felt and leather in place. Can be thinned 20% with water.
4 oz PVC-4 $ 5.00
8 oz PVC-8 $ 8.00
Pint SH387-16 $ 12.00
Quart SH387-32 $ 18.20

*********NEW PRODUCT*********
HIGH TACK FISH GLUE
This wonderful glue has properties that are very similar to flake hide glue except
that it does not require heatiing. It tacks quickly and remains water soluble when
dry. It is freeze-thaw stable and can be shipped year round.
4 oz CL100-4 $ 6.00
8 oz CL100-8 $ 9.00
16 oz CL100-16 $14.50
Heavy Duty Aerosol Adhesive--
A super-tough pressure sensitive formula with surprising adhesive power!
Holds heavier objects with strong, instant grip. Usually will not release
unless forced apart. Sticks to almost any material, rough or smooth,
including wood, paper, glass, plastics, metal, and concrete block.
Leaves the surface neat and clean when removed. Accurate spray can
application cuts waste to a minimum and is far faster and easier to use.
16 Ounce can-- SH485 $ 15.50
Bee's Wax
45 pieces of 1/16" round by 11" long bee's wax strips. Can be melted with a
soldering iron to seal parts together. This is used, along with animal hige glue,
by professionals to seal and glue player parts so that years later the player
mechanism can be rebuild without having to be nearly destroye in disassembly. DA1039 $ 9.10
Phenoseal
For sealing wood. Dries clear and seals the smallest holes and cracks or pin
holes 100% with just one application. Can be brushed or poured and drained.
It is strongly recommended that any internal wood surfaces which faces the
vacuum channels in the player action be recoated with this. Phenoseal is slightly
plastic and will stretch and contract with humidity conditions without cracking or
pulling away original shellac or varnish sealers. Phenoseal will stick over the
original sealer. It remains tacky, so do NOT use it to coat a surface that a valve
will seat on.
8 ounces DA326 $ 15.30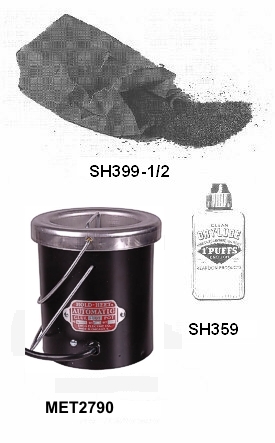 Ground Animal Hide Glue-
Terribly politically incorrect, but it sure works great

This glue is highly recommended for gluing
bellows cloth to wood pieces in player pianos.
Also, use it on all wood and felt parts where you
wish to leave the possibility of dismantling in future
years. This glue is specially designed for use in
glue pots. Must be dissolved in hot water.
One pound package SH399-1/2 $ 11.25
"Hold Heet" ® Automatic Electric Glue Pot- made in USA
Features Accra thermostatic control. Operates without a water
jacket. Removable glue container. Wide overhanging lip prevents
glue from entering heater shell. 7 1/2 foot heavy duty grounded
power cord. Built like a boiler. Will take abuse. Long life heating
element. No hot spots and will not burn glue. All pots are set at
150 degrees F. Quart size, 115 volts, 144 watts, weighs 6 lbs.
Read a discussion from a trademan about this product
Pot only SH1155 $ 204.00

USING HOT ANIMAL HIDE GLUE
If you are doing only one piano, you can heat the animal hide glue in an improvised double boiler. Don't use your wife's because the thing will be ruined.
Put the amount of glue in the electric glue pot or your double boiler which will do the job as far as you can tell. Fill the thing next with enough cold water to cover the glue crystals to one quarter inch above the glue. Soak the glue inthe correct amount of water overnight. Heat slowly and stir as it heats. If you improvise, you MUST have a thermometer to make sure you don't overheat it. The working temperature must be at 135 to 145 degrees F.
Animal Hide Glue-- Cold application-- The purists do not feel cold animal hide glue is as
effective as hot glue. Production shops never use the cold glue. But, I know of technicians
who feel good about it.
Made by Franklin. No heating or mixing necessary. Ororless and stainless.
After years, when restoration is again needed, this glue will break up easily like hot glue.
4 ounce bottle SH401-4 $ 7.15
8 ounce bottle SH401-8 $ 11.85
Mink Oil
Made from 17% pure mink oil, and the balance is beef tallow and zinc sterate.
This combination is ideal for maintaining the health of leather to prevent hardening.
Tanned leather loses its oils in the process and needs natural oils added to
maintain supple qualities. This product is absorbed INTO the leather. Petroleum
based products will eventually evaporate. Mink oil has an indefinite shelf life.
Massage in and wipe excess off in about ten minutes. Excellent for treating
leather pouches and gaskets.
3-1/2 ounce jar DA1704 $ 7.00
7 ounce jar DA1705 $ 12.10
DRY LUBE, TEFLON POWDER, GRAPHITE, AND OTHER PIANO GLUES AND LUBRICANTS
This page has many glue and lubricant choices which apply to player piano needs.
PUMP (REED) ORGAN SUPPLIES-- Find many Player Piano parts here


---
VISIT OUR PAGES ON PLAYER PIANO REPAIR AND ADJUSTMENT:
WE OFFER A PLAYER PIANO WEB RING FOR YOU TO SURF
YOU WILL FIND SOME EXCEPTIONAL PEOPLE TO SERVE YOU
See the bottom of the page.

OUR MENU OF PLAYER PIANO INSTRUCTION

68. Varmints, Lubrication of Player Pianos

69. Adjustment of Player Pianos

70. Bellows repair in Player Pianos


ORDER BY PHONE WITH CREDIT CARD
CALL TOLL FREE: (800) 338-8863
If there is no answer, please leave a message- we do answer our voicemail

OR:
Go to Mail Order Form for printing:
Online help available



NP