STORE HOURS
9 TO 6 CDT
GMT minus 5 hours
Monday thru Friday
Do not call on
Sat. Sun. please

ORDERING INFORMATION:
MINIMUM ORDER:
Minimum Order is Variable
SHIPPING POLICY:
Minimum $12.00
Higher shipping cost
for heavy items
You MUST browse the Catalog area, and try to learn what you want. We no longer search our catalog for you.
Have this information ready:
1. Description of parts
2. Part Numbers
3. Prices
4. Dimensions where needed
BEFORE you call us please.
Make sure you are in the catalog area for your kind of piano--
Such as Grand Pianos,
Full Uprights, Spinets, etc.
If you are confused, do not phone us until you have SENT E-MAIL and asked for help.
If we do not answer the phone, we are probably here-- Just leave a message- we will return your call (it may not be the same day).
:-)


PIANO REPAIR:
CENTER PIN REPAIR TOOLS

EXHAUSTIVE WORD INDEX OF THE WHOLE SITE:
Other regulating and restoration tools can be seen
by hitting links at the bottom of this page.











CENTER PIN AND FLANGE SIZING AND LOOSENING TOOLS
Pin Vise-- Takes pins and tools from 0" to .118" in diameter
4 inches long-- Ideal for holding broach tools and center pins-- This is an
improvement over our old model-- Enhances control inserting pins into
flanges.
Nickel plated with steel jaws. Double ended.
Replaces and improves on Old Part Number 15212 above graphic
Part Number- SH149 $ 14.00
Pin Vise-- One set of friction jaws--
Opening from 0" to .052" diameter pins and tools
Part Number- SH152 $ 15.85
Repinning Tool-- Hand Press-- Not shown in graphics
This tool is hand held. The flange is placed against the bottom, and the
grip is squeezed
The pin is driven out of the flange and can be removed completely.
The new pin is driven in by the other end of the tool.
Sturdy aluminum construction.
SH5501 $ 55.80
Replacement needles-- Each SH5501N $ 3.75
Use a Center Pin, smallest size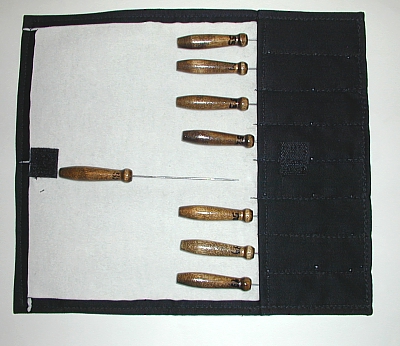 Broach Kit-- Covers the most common sizes--
Eight broaches from .048 to .055-- in wood handles
Instruction sheet included -- Carrying case included
Developed by P.T.G. member, Don Manino.
Broach has wire point tapering up to size needed
Near handle is a 1/2 inch section for roughed
for reaming the bushing felt. Taper burnishes.
These are needed to size new flange bushings, fine for
adjustments made on site-- See graphic at left.
Part Number SH220 $ 65.25



Center Pin Punch-- 3-1/4 inches long- Old number 16213 SH176 $ 15.00
Reamer-- Cornered-- For enlarging hole in flanges and other needs--
Can be used to remove threads in brass flanges so they can be used in a Kimball SH153 $ 11.50
Burnisher-- Burnish the felt bushing hole- Tapered from .046 to .066 inches- 4 inches long SH155 $ 11.50
Drill-- 7/64 inch-- To drill flange holes-- Handles SH149 or SH152 needed
Without handle Old Part Number in above graphic 152165 SH71 $ 3.25
Rat Tail File-- Handles SH149 or SH152 needed to use this tool
Open flange bushing holes with control- 4-3/8 inches long- 15217 in graphic SH154 $ 26.95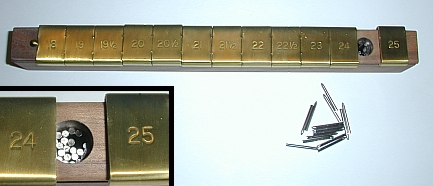 Center Pin wood case with marked brass covers-- See graphic above
Holds 12 common sizes and controls removing pins-- Old number above16098
Case only SH165 $ 42.25
Case loaded with 12 sizes of center pins SH165A $ 105.00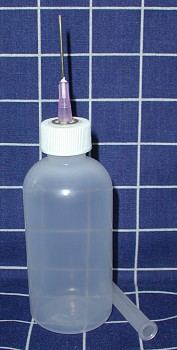 Hypo-Applicator-- Hypodermic type needle on 2 ounce plastic bottle--
Cover included-- This is the most pracitical applicator we now carry.
This could also be used to apply pin tightening fluids.
Use to dispense lubricants and pin tightener SH184 $ 5.80







Plastic Oiler / Lubricant Applicator--
Unbreakable squeeze plastic bottle-- One ounce size-- 4 inches overall.
Dispenses lubricants, pin tightener, and liquid graphite. Cap included.
Can be used to deliver lubricants into the tight flanges drop by drop.
Old Part Number 51095A SH190 $ 7.80
OTHER TOOLS FOR REPAIR AND RESTORATION:


ORDER BY PHONE WITH CREDIT CARD
CALL TOLL FREE: (800) 338-8863
If there is no answer, please leave a message- we do answer our voicemail

OR:
Go to Mail Order Form for printing:



NP