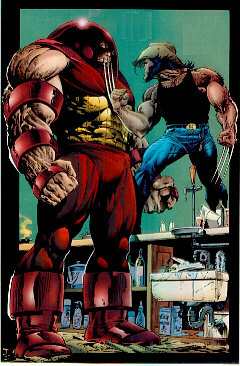 FUNDAMENTAL BAPTIST LOONIE BIN
We have held back for some time regarding the insanity and devilish things happening in Fundamental Baptist circles. This tends to be our choice for personal fellowship in regard to doctrine, but we do NOT give privilege to the devils who have been allowed into some Fundamental Baptist pastors heads and into their churches.
Thus, we are now having to dive into another rather sorry tale of woe at the end of the Age of Grace. It is assumed by Fundamentalists at large that all the lunatic behavior at this hour is found in Brownsville Assembly of God or at a Benny Hinn rally. Not so, my friends.
Much of the loonie doctrine Fundamentalists pick up comes from either Art Bell or Texe Marrs. These men have done more than any other source to make jerks of weak minded saints and pastors. In know one preacher who stays up all night listening to ALL of Art Bell, and then in the morning (more like 2 PM) he thinks everything Art Bell talked about happened to him. The supreme irony is this-- This loonie preacher has a very devoted following. I piano coversn you friend--This stuff is seductive.

ARTICLES:
THE GREAT PYRAMID CULT
Massive Satanic Deception of Fundamentalists
JACK HYLES-- Did he do it, or is it a myth?
ARE YOU A "SOUL WINNER" OR A FORTUNE TELLER?
UFOs, THE FEDS, HYPNOSIS, YANNIS / GREYS--
AND THE KJV ONLY SYNTHESIS
LINKS:
THE MOST HIGHLY CONCENTRATED NEW AGE GARBAGE ON EARTH: http://www.davidicke.com/icke/main.html Why is this here? Answer: You will find on this site ALL of the myths your pastor is playing with, and you will see that he is 1000% over the edge into Satanic territory. Rebuke him with this site as your proof. Also, you may well see where Texe Marrs gets much of his bug eyed terror editorial. Please pray for the mind of the Holy Spirit as you enter this site, for it is extremely seductive.
LINK:
HERE IS A STUDY IN MIND CONTROL.
I BELIEVE SOME OF MY READERS FROM FUNDAMENTAL
BAPTIST CHURCHES WILL IDENTIFY WITH IT. THE QUESTION IS,
WILL YOU ADMIT THAT YOU HAVE BEEN BRAIN WASHED?
ESSAY BASED ON LOONIE MOTHER GOOSE DOCTRINE OF EVIL--
A basic primer showing the various beliefs of loonie Baptists:
http://www.bright.net/~rogue/invasion/crim003.txt